Mini Pupper – Raspberry Pi 4 Based Robot Dog Teaches ROS, SLAM, Navigation, Computer Vision (Crowdfunding)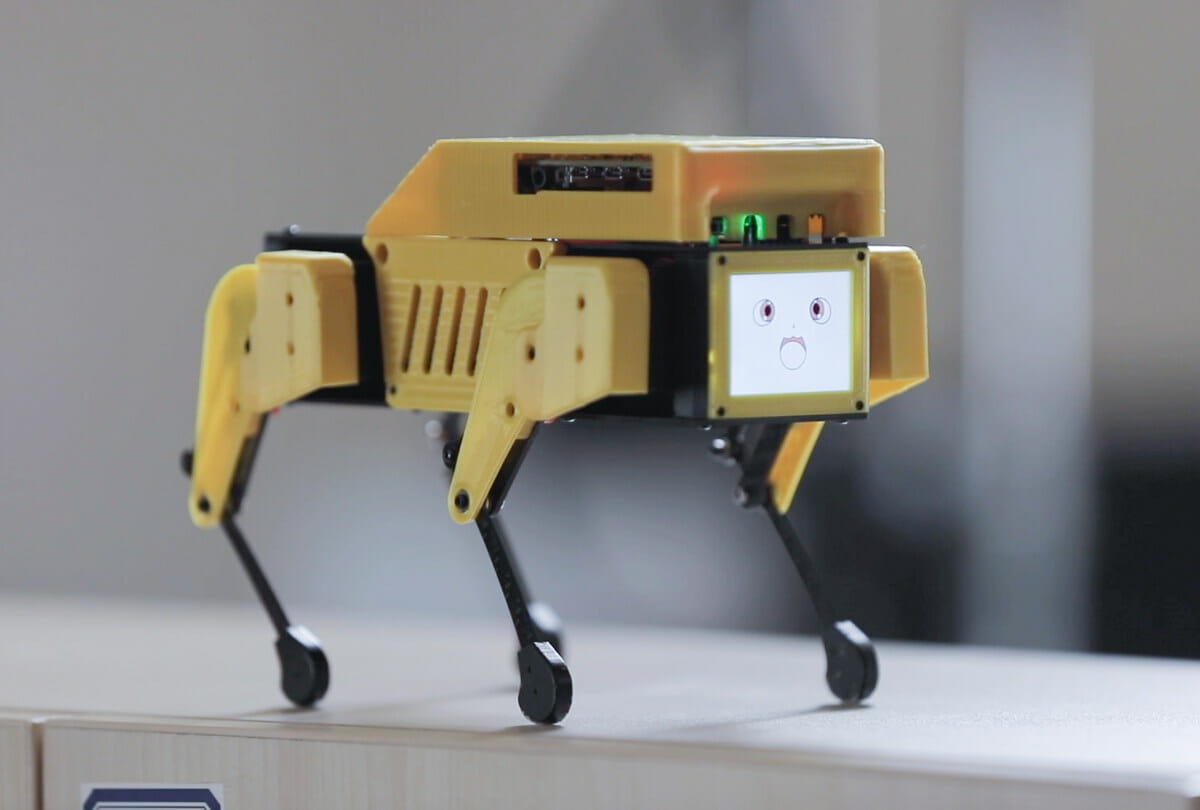 Mini Pupper is a Raspberry Pi 4 powered robot dog inspired by the open source Stanford Pupper quadruped robot, and designed in "light collaboration"With Nathan Kau, the original creator of Stanford Pupper.
Just like the original design, MangDang's Mini Pupper is open-source, based on Ubuntu and ROS (Robot Operating System), and designed for teaching robotics to schools, host families, hobbyists and others. , including students who can learn to use ROS, SLAM, navigation and OpenCV computer vision through online courses that will come with the robot.
Main features and specifications of the Mini Pupper:
SBC – Raspberry Pi 4 Model B with 2 GB RAM
Storage – 2 GB microSD card
Display – 320 × 240 LCD for facial animation
Camera – OpenCV AI Kit Lite support
12 DOF via MangDang's custom servos
Optional lidar module for SLAM (simultaneous localization and mapping)
Battery – 800 mAh
Charger – Input voltage – 100-240V AC 50 / 60Hz, output current: 3x 1600mA?
Dimensions – Fits 209 x 109 x 165mm volume
Weight – 560 grams
The robot is available in different kits:
Research Base Kit – Only custom parts from MangDang, and you will need to solder your own components, print the plastic parts with your own 3D printer and use your own battery, charger, controller, Raspberry Pi and microSD card.
Research Kit – Everything you need to get started without the controller, Raspberry Pi, microSD card.
Complete Kit – All parts and tools to build and program the robot, including Raspberry Pi 4B and microSD card.
Full Mini Pupper – Same hardware as the full kit, but fully assembled and software pre-installed
The company also offers an optional accessory, namely a LD06 Lidar module, and recommends the OpenCV OAK-D Lite 3D camera, although a standard USB camera can do the trick without the depth feature.
A fully assembled and configured, dog-shaped quadruped robot that can jump, trot and run, finding its way using SLAM, Navigation and OpenCV AI functions. Mini Pupper software is based on a fork of ROS based Quadruped Field Frame directed by Juan Miguel Jimeno, who you can also find on Github. Support for ROS2 is also on the way.
MangDang promises to post online courses on mechanics, hardware, ROS, SLAM, navigation, AI functions, and more, although there are few details on the tutorial at this time.
The open source Mini Pupper robot raised over US $ 300,000 on Kickstarter so far with around 23 days to go. Most of the Super Early Bird rewards are gone, so pledges start at $ 279 for the Basic Research Kit, and you can still get the Mini Pupper fully assembled for $ 564. The retail price of the complete robot will be $ 940.
The Lidar module adds an additional $ 139. Shipping is $ 25 worldwide and the robot appears to be ready since deliveries are expected to start in November right after the campaign ends.
Mini Pupper isn't the first robot dog we've covered, and alternatives include Petoi Bittle (Arduino + Raspberry Pi) and XGO Mini Pro (Kendryte AI processor). Larger companies have also started offering their own bots with, for example, Xiaomi CyberDog and Amazon Astro, although the latter looks more like a pet on wheels than a dog, and is designed to home monitoring, rather than education and / or research.
Going through Tom's gear
Jean-Luc started CNX Software in 2010 on a part-time basis, before stepping down as head of software engineering and starting writing daily news and reviews full-time later in 2011.